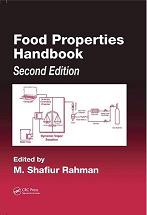 Editor: M. Shafiur Rahman
Publisher: CRC Press, Boca Raton, Florida, USA (2009)
Contents: 24 Chapters, 861 pages

Dramatically restructured, more than double in size, the second edition of the Food Properties Handbook has been expanded from seven to 24 chapters. The first edition was well received, secured bestseller from the publisher, and received an award. Appreciation from scientists, academics, and industry professionals around the globe encouraged the editor to produce an updated version.
Recognized as one of the Gold-Standard Resources in Food Science by CRC Press (2010).